Eddie Redmayne had a busy day in Los Angeles before he flew back to London.
He started in the morning with a live interview in Good Day LA on FOX11.
At Noon he attended the 87th Annual Academy Awards Nominee Luncheon at The Beverly Hilton Hotel.
"All the lead acting contenders attended including…Eddie Redmayne, who told me he was having a hell of a day. In addition to the lunch, he's doing
Conan O'Brien's show
, walking the red carpet for the
Jupiter Ascending premiere
and then accepting an
award from the AARP
. No rest for the weary, but after today it's back to England and starting work on Tom Hooper's The Danish Girl until he comes back for the Oscars." (
via
)
You find more pics and infos by opening the links of the events titles.
In the interview with Maria and Lisa, Eddie explains that playing a character like Stephen Hawking
came with a nervous set of challenges. He talked about his upcoming projects too.
"I saw the bag go through [the X-ray machine] and I saw the [T.S.A. attendant] stop the thing and then go close up on this weird shaped thing," explained the actor. "She was like, 'I think it's an award or something.'"
Redmayne revealed that he was thrilled at the chance to show off his shiny new statuette.
"I was praying that they would make me open it up… and they did. That was very special moment," he said, even if the T.S.A. attendant did not seem to recognize him. "The guy was like, 'Is this real?'"
(x)
Video link: Conan Show 2. part: Eddie Redmayne's "Jupiter Ascending" Ripped Abs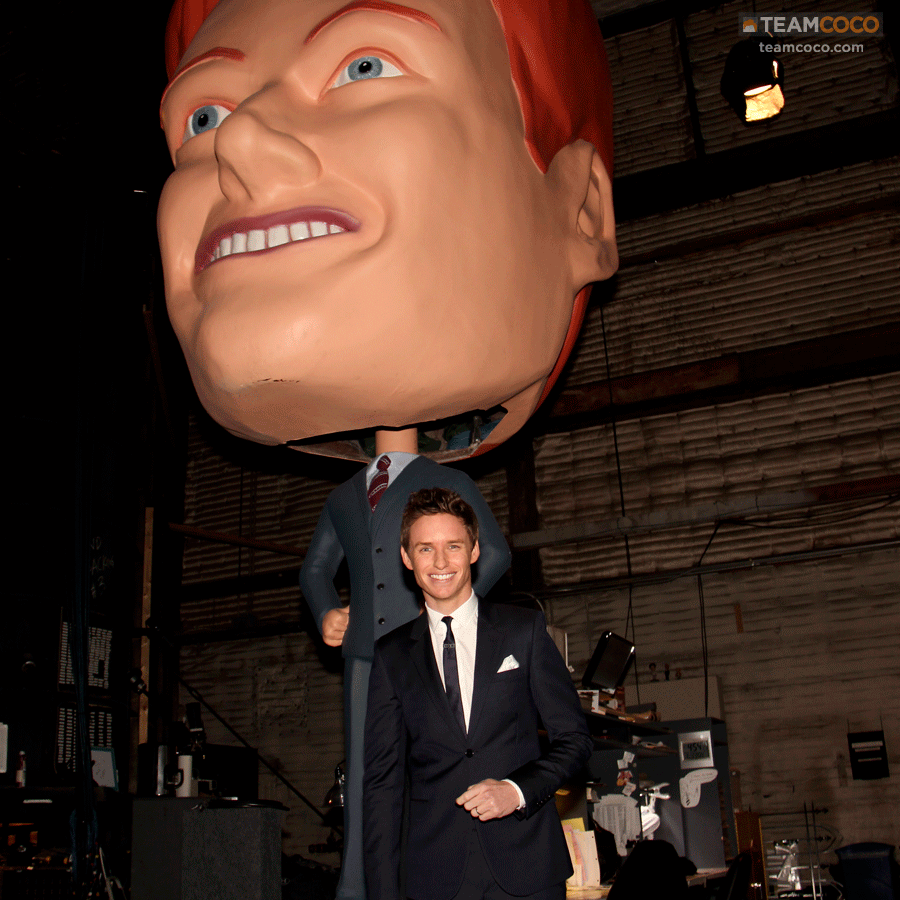 Eddie Redmayne and Mila Kunis at the Los Angeles Premiere of 'Jupiter Ascending'
HOLLYWOOD BOULEVARD PHOTOCALL: Before walking the black carpet at Chinese Theater,
Best Movie for Grownups - The Theory of Everything
Eddie Redmayne and Felicity Jones, the stars of Best Picture
The Theory of Everything, have seen a lot of each other this awards season. Their gracious acceptance included thanks
to "everyone we met who suffers from ALS."
/Brinson Banks/
Related Tumblr posts
And since
Eddie Redmayne
already has done Fallon — and Kimmel and Seth and possibly every single other show — Focus booked him onConan for another shot before hitting the red carpet for his new film, Jupiter Ascending.
But that wasn't all. The indefatigable Redmayne also showed at yet another event Monday:
AARP
's
Movies For Grownups Awards
Gala & Dinner at the Beverly Wilshire. He and co-star Felicity Jones were there to accept Best Picture for Grownups for their film, The Theory Of Everything. After his early-evening appearance at AARP, Redmayne was supposed to catch his plane back to England to start work on The Danish Girl, but shortly after, he came back in the room and told me: "I missed my flight. It was cancelled due to snow." He ended up staying at the dinner, hosted by John Leguizamo, for the whole night.