NYMT production of The Ballad of Salaman Pavey at the Globe Theatre in about 1999
Here is a picture of Eddie Redmayne with, Mark Chalk Iles, a former student at Abingdon School,
whose mum still lives in Abingdon. Eddie and Mark appeared together in the National Youth Music
Theatre production of The Ballad of Salaman Pavey at the Globe Theatre in about 1999. Mark is
Eddie as the MC in Cabaret at the Edinburgh Fringe Festival in 2001
I AM YOUR HOST: Eddie Redmayne as the MC in Cabaret at the Edinburgh Fringe Festival at the age of 19. His grandmother's recollection:
Mrs Burke said of his 2001 Fringe performance at the Underbelly in the Cowgate:
"I saw him, but I didn't recognise him. He was wearing so much make-up."
Speaking from her home in the Gracemount area of Edinburgh, Mrs Burke said the show cemented the expectation that Redmayne would become a successful actor. "It wasn't so much that we could see he was a promising actor,
just that he was an actor, it was as simple as that," she said. "He was always performing, even as a young boy."
Redmayne has previously credited his acting success to the Fringe performance in the early years of the Underbelly, saying the "grotty, grimy venue" was where he "really got the bug" for acting.
Mrs Burke told The Scotsman that her "close knit family" was "thrilled" that Redmayne – one of six grandchildren –
had won the accolade. "I'm delighted, absolutely delighted," she said. "It was a lot of hard work for him preparing for
[the role]. I have been watching the coverage of the Oscars on and off all day, I'm very proud. His grandfather would have been very proud too."
Mrs Burke is the mother of Patricia Redmayne, Eddie's mother who studied at the University of Edinburgh before moving to London and marrying Richard Redmayne. Mrs Redmayne runs a relocation business while her husband
is a London city banker.

Ed Bartlam, director of the Underbelly, said Redmayne's Fringe performance in Cabaret still "stuck in his head", 14 years on. "It was our second year at Underbelly so we were very much finding our feet and it was all very atmospheric," he said. "Eddie was a slightly creepy Master of Ceremonies in the show and would come up behind people's backs in the audience and get a fantastic reaction."
The show was performed by Doubled Edged Drama, a production company with links to Eton, Redmayne's former school. "He had left Eton by then and this was one of his first performances, and I'm sure his first Fringe performance," said Mr Bartlam. "I still remember it as one of the best shows we ever did. Eddie also had a lot of love for performing
at the Fringe and still keeps in touch occasionally to see how we're getting on."
'We were on the same Colts B team in 1997,' Redmayne has recalled. 'I always felt slightly sorry for Will because everyone wanted to tackle the future King of England. He took all the hits. 'I'm pretty sure Will was more intimidating than I was. I don't think I intimidated anyone in my life. I haven't seen him since school, but he was a lovely man.'
Eddie Redmayne (back row, fourth from left) in the Rugby Colts at Eton alongside Prince William
(x)
Daily Mail:
A young Eddie Redmayne keeps a straight face as fellow choristers cavort behind him.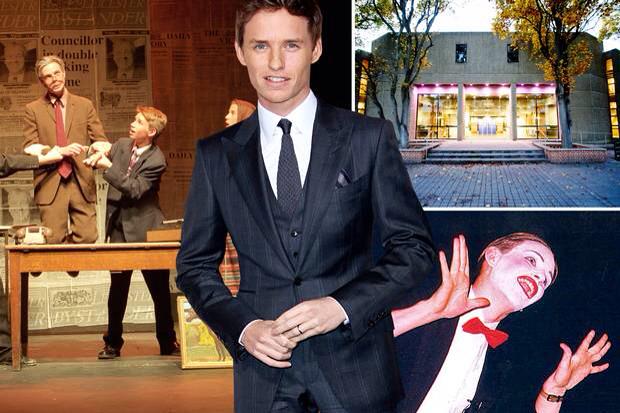 Never before heard insights on his formative years from a schoolmate. (
via
)
Interesting posts, articles about Eddie's ancestors:
Meet Eddie Redmayne's beknighted, accomplished great grandfather,
Sir Richard Redmayne
.
Will Eddie become the second "Sir Redmayne"?
(x)
Family vacations in the south of France
bespokeredmayne
: Eddie Redmayne's very attractive family photographed for a feature on their vacation
home in the south of France. It can be rented for £9,000 a week — family not included. Source:
Daily Mail