I saw the first half of this new TToE clip first on the TODAY Show's website yesterday
(x)
The amazing longer HD version uploaded on Youtube today, here it is:
Redmayne, as Hawking, and Felicity Jones as Jane Wilde, who would become his first wife, manage
to turn a discussion about the origins of the universe into a sweet riverside moment.
(x)
Eddie was one of the guests of NBC's TODAY Show this morning.
TODAY | November 05, 2014
How Eddie Redmayne transformed for Hawking role
The actor joins TODAY to talk about playing the renowned physicist in the new biopic, "The Theory of Everything." It hits theaters Friday.
Eddie Redmayne gave up science at 14, but 'towers' as Stephen Hawking in 'Theory of Everything'
Nearly everybody gets tongue-tied when meeting a personal hero. But not Eddie Redmayne!
When the actor — who spent months learning how to portray Stephen Hawking in the new film "The Theory of Everything" —
got to meet the cosmologist and physicist himself
, having nothing to say was not the issue at all.
"I'd spent four, five months researching [him] and he'd become like idol-like in my mind," Redmayne recalled on TODAY Tuesday. "So when I actually got to meet him I was so nervous that I basically just sort of spewed forth information about him, to him, for about the first 40 minutes."
Redmayne, who made a name for himself in "Les Miserables" and "My Week With Marilyn," says he "calmed down a bit after that."
Still, early reviews for the film are buzzing about a possible Oscar nomination for the British actor, whose performance critics have said
"towers" and is "astonishing."
Check out this exclusive TODAY clip from "The Theory of Everything"
Still, Redmayne knows he's no match for Hawking on any kind of scientific level — no matter how many facts he memorizes. "I gave up science when I was like 14 or 15," he admitted on preparing for the film. "I'm not going to lie, I went to kind of like 'Astronomy for Children' websites!"
Tony-award winning actor #EddieRedmayne talks #TheoryOfEverything with Matt
in #Studio1A. #TodayShow
(x)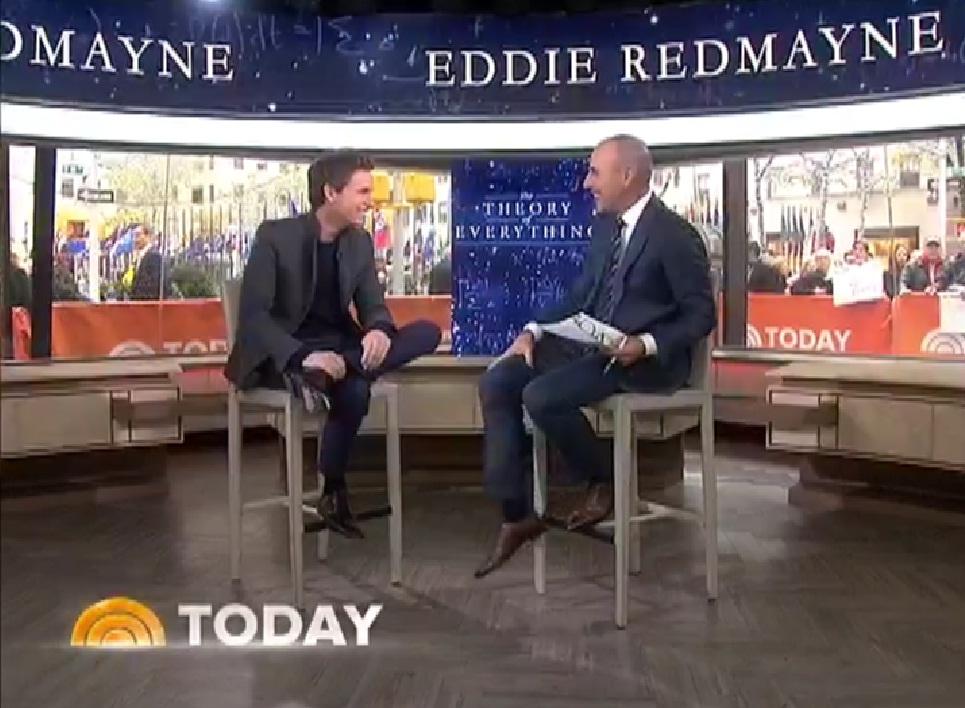 Felicity Jones in TODAY show on 4th Nov. 2014 (x)
#FelicityJones chatted with Savannah about her role as Jane Hawking in #TheoryOfEverything
(x)