MARCH OF DIMES CELEBRATION OF BABIES
Eddie Redmayne attended the March of Dimes' Celebration of Babies: A Hollywood Luncheon at the
Beverly Wilshire Hotel on December 5, 2014 in Beverly Hills, California
Emily Blunt and Eddie Redmayne
(x)
Eddie Redmayne Web Gallery Links:
– 2014 > December 5 | March of Dimes Celebration of Babies
– 2014 > December 5 | March of Dimes Celebration of Babies – Inside
newscard - Eddie Redmayne Gallery
March of Dimes 2014 Celebration Raises a Record $1.1 Million for Healthier Moms & Babies
Honoree Elizabeth Banks and Eddie Redmayne
(x)
"I wonder if my fellow AMPAS (Motion Picture Academy) members will recognize that Eddie Redmayne's portrayal of Stephen Hawking in "Theory of Everything" is head-and-shoulders above any other acting stint this year? I've seen the pix three times and find something new in it every time, a nuance or story point. God knows I am not denigrating the other contenders, from Michael Keaton in "Birdman" to Benedict Cumberbatch in "The Imitation Game" to Bradley Cooper in "American Sniper," all really fine.
THE THEORY OF EVERYTHING RECEPTION
Hosted by Eddie Redmayne and James Marsh in Los Angeles.
Eddie Redmayne Web Gallery Link:
–
2014 > December 5 | The Theory of Everything Reception in Los Angeles
Eddie with James Marsh and Dyan Cannon
marissamarz23
with Eddie at the reception. She wrote: I was crying & telling Eddie about a
personal story. He had a tear in his eye! One of the most genuine & kind actors I've ever met!
Guaranteed Oscar Nominee Best Actor!!
Her friend
mermaidariella
wrote this comment: what a kind gentleman he was! I was so happy
to take this photo! Theory of Everything was the most touching film I have seen this year!
(via)
So much fun tonight :-) #movie that made me look at everything differently and
Deadline: Real to Reel
James Marsh captures a complicated relationship on a complex shoot in The Theory of Everything.
...Once I cast Eddie and Felicity, I began to involve them in the script process, so they would have meetings with me and Anthony and explain and argue for some adjustments or additions or subtractions based on their research. These all ended up in the script. It's a constantly evolving process. The actors would often spontaneously come up with a good addition to a scene, and we almost always embraced it. Some of the best lines in the film were improvised by them. But certainly the witty lines came from working with Anthony's script—the wit was there already, and we just took it a bit further as we were shooting...
...in terms of Eddie's performance, what we couldn't do was shoot it in sequence. ...
...He had so
mastered the stages of the illness
that he could do this. We'd have people say,
"Well, let's give him half an hour to rest." No, no, he never wanted it....
...
there's the scene at the very end where the characters decide to separate
. Stephen can't speak at this point, so how do you tell your wife you're leaving her when you can't have a conversation? You can't even touch her. It was one of those days when everyone knew we were doing something that felt pretty special. I don't get emotional when I'm shooting a film—I can't allow myself to—but I really felt things I was surprised at as I was shooting. And there were certain moments where I became emotional myself. There were people around the monitor, and they were all crying and really moved by what the actors were doing. It was a very intense day.
(full article)
The ever charming and talented #EddieRedmayne visits the SAG Foundation to discuss his career. pic.twitter.com/O4SJ2ECQL3
— SAG Foundation (@SAGFoundation) December 5, 2014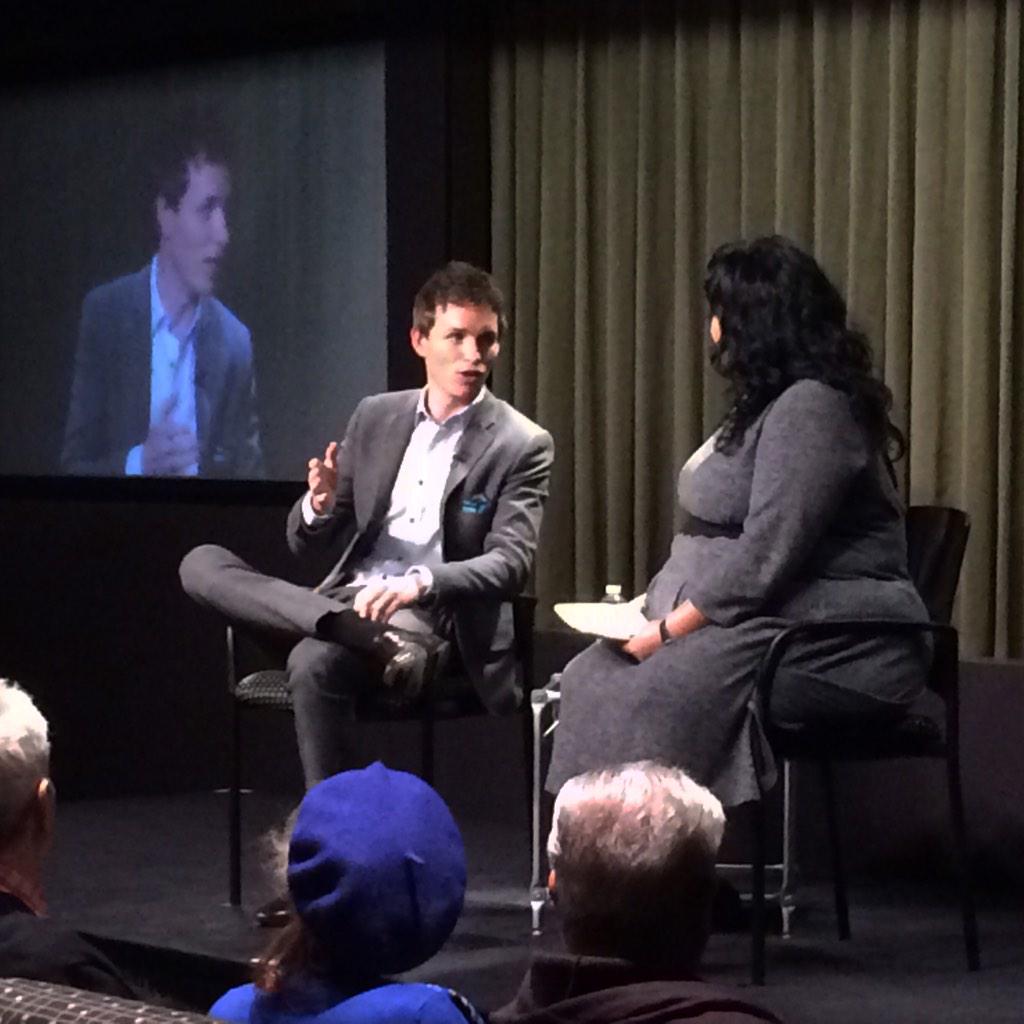 Clay Blanchette @TheClayB
: Grateful to hear insight from
#EddieRedmayne
today at SAG office. From
#Hobbit
and
#StarWarsEpisodeVII
auditions to how he deals with nerves.
#EddieRedmayne
advice on audtions. Never leave the room without feeling you've given part of yourself.
#actorslife
#gracious
#humble
(x)
Christian Rodrigo Muro
december 6., 8:49 · Los Angeles, CA, United States ·
What a very talented actor, nice and humble human being is Eddie Redmayne! After having listened his stories about his career today in person, and watched the other day The Theory of Everything, I would really love him to win an oscar this year for his amazing work! I'm really happy when artists like him have success and share with the world their talent and great energy!
Persianality @IdeeneIdeene
: Q&A with Eddie Redmayne was pretty cool, damn Brits are little in size
but charming as hell... yummmmmm
Kat Andrusco @katandrusco
: Seeing Eddie Redmayne speak again. This time from like 5 feet away.
I might explode from the inspiration. Thanks
@SAGFoundation
!
Chloe Lane Godard @ChloeLaneGodard
: Thank you
@SAGFoundation
for having
#EddieRedmayne
for a talk today. I learned so much & sitting 2 feet away from him wasn't bad either.