BBC LONDON 94.9: Gaby Roslin: Christmas Extravaganza
Dan Stephens, Owen Wilson, Sir Ben Kingsley, Eddie Redmayne, James Marsh, Hugo Speer & more
on Dec. 21, 2014 3-6pm
@BBCLondon949
OR
http://bbc.co.uk/gabyroslin
(x)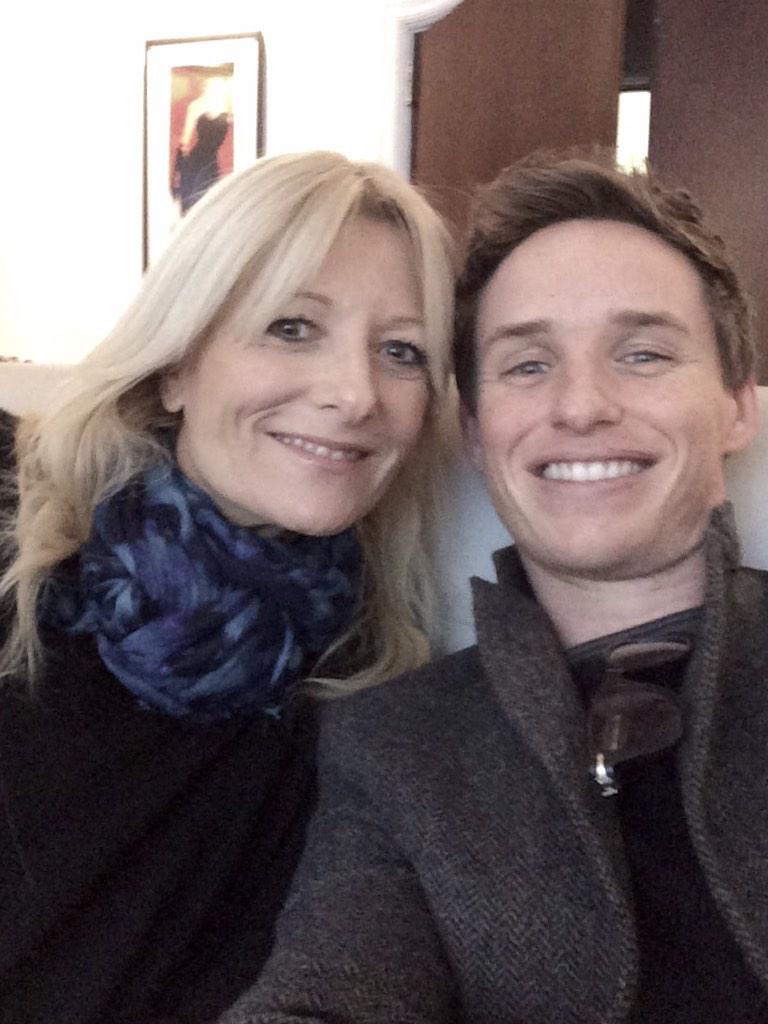 This lovely man & brilliant actor EDDIE REDMAYNE is on the show from 3pm TODAY
(x)
WIRED:
Felicity Jones on love and loss in Hawking biopic
...Well Eddie [Redmayne, who plays Stephen] and I would say they became like one person, so reliant on each other -- Stephen obviously physically, but then also Jane emotionally. A part of our way of approaching that was in sort of a dance. It was very much physical and emotional.
So that makes it more crushing when it falls apart?
Absolutely, well that's why it was so difficult to play that scene. Jane can't quite comprehend what her world would be like without this person she has spent 25 years so intimately looking after. The connection between them was so strong, so that scene was devastating to play.
Is their connection still there?
I believe so, absolutely. I think they've gone through some very hard times, but there's huge affection on both sides and they speak very fondly of each other....
Felicity about meeting Stepen Hawking:
It was nerve-wracking at first, he's so famous and such an icon that you want to impress him and so you end up speaking too much and then really embarrassing yourself. But what I love about Stephen is he doesn't suffer fools so he probably thought, "What a right pair of fools". He's incredibly sharp and incredibly expressive, with such limited mobility. When you earn a smile or you get a response from him it's very, very rewarding. He's so charismatic and he has a movie star presence about him; it just seeps out of him.
Newsweek:
How Eddie Redmayne Got Stephen Hawking to Lend Him His Voice
When I asked Eddie Redmayne to explain how he'd unlocked the secrets of Stephen Hawking, he was psyching himself up to meet the Cambridge cosmologist that same night. Redmayne was nervous about what Hawking would make of The Theory of Everything, in which the 32-year-old portrays both his extraordinary intellectual rise and his physical decline...(with London Premiere video)
The Science Museum Blog:
How Eddie Redmayne Mastered Stephen Hawking's Voice
Only one person is known to have used the voice synthesiser that now sits in the
Cosmos and Culture
gallery in the Science Museum: cosmologist Stephen Hawking, who describes the museum as 'one of my favourite places'.Now a second person has mastered Hawking's voice, that paradoxical blend of machine and personality: the actor Eddie Redmayne, who undergoes an extraordinary feat of transformation during
The Theory of Everything
(released on 1 January).
Voice synthesiser, on display in Cosmos and Culture
He depicts how Hawking changed from a lazy student into the world's best known scientist who, as a result of motor neurone disease, has only the use of a few muscles.
Hawking caught pneumonia in 1985 and underwent a tracheotomy but regained the ability to 'speak' using a computer operated by a hand switch to painstakingly build up words, sentences and phrases so they could be read out by the voice synthesiser that is now in the museum....
...One of the pivotal scenes with Hawking's first wife Jane (played by Felicity Jones) took 15 minutes during an intense day of filming using a hand switch to operate a replica of Hawking's synthesiser system, he explained. Though only an edited version of his laborious original effort remains in the film, it speaks volumes about Redmayne's attention to detail that he was prepared to go so far....
The Theory of Everything will be showing at the Science Museum IMAX from 1 January 2015.
ShortList sat down with Eddie to talk about the film, we also found time to ask if he's found time to take in any other performances which might well be up for an Oscar next year. And with Hawking recently stating he'd love to play a Bond villain, we also got Redmayne's take on that – the answer may possibly be the most meta we've ever heard...
Oh, and he's also like to be in the next Avengers film. Talk about ambitious.
Etonline: Palm Springs: The Fest That Kicks Off Awards Season - video
(Eddie at 0:26)
Palm Springs International Film Festival opens on Jan. 2.
Oscars predictions slugfest: Michael Hogan (Vanity Fair) vs. Tom O'Neil (Gold Derby)
...Like most of Gold Derby's experts, Hogan has "Boyhood" out front for Best Picture, Director (Richard Linklater) and Supporting Actress (Patricia Arquette), but he sides with me pickingEddie Redmayne ("The Theory of Everything") over Michael Keaton ("Birdman"), who now has a slight edge in the Best Actor race. See
latest rankings
.
"Eddie has a much more inspirational role and he's a very likable guy," Hogan adds, adding that he's impressed with the personable way Redmayne is handling his Oscar campaign. "He's been absolutely around, shaking hands, smiling. He's just a lovely guy to be in a room with."...