reprints of all celebrity flower photos are available to buy
here
, with
all proceeds going to Leukaemia & Lymphoma Research
(x)
The Independent:
Eddie Redmayne on 'The Theory of Everything', Stephen Hawking, and disability in film
..."You know what, I'd seen My Left Foot and I'd seen The Diving Bell and the Butterfly, which people talk about, and I'd watched them years ago, but I didn't watch them again. It's interesting because people talk about disability in film in such broad terms, but this is such a specific illness that what I did do was go and spend four or five months in a neurology clinic."...
BBC Radio 2 interview clip - Eddie Redmayne chats to Richard Madeley
...
Q: What was it like to watch Eddie completely transform throughout the film.
A: It was absolutely incredible. Not only was he having to take on this extraordinary physical journey of a person, but Eddie is also someone who is constantly helping you out as the other actor. He's selfless in that way. He's pushing you at the same time he's doing his own performance. He really is extraordinary. The physicality -- it was just so -- he prepared at length and he could jump in and out of it. So literally he'd be sitting when Stephen was in the chair towards the end of the film and then the next minute he'd be walking around drinking a coffee. He's someone who can jump in and out, which is extraordinary.
Eddie Redmayne Cover Story in The Big Issue
I think the interviewer was pretty impertinent
(x)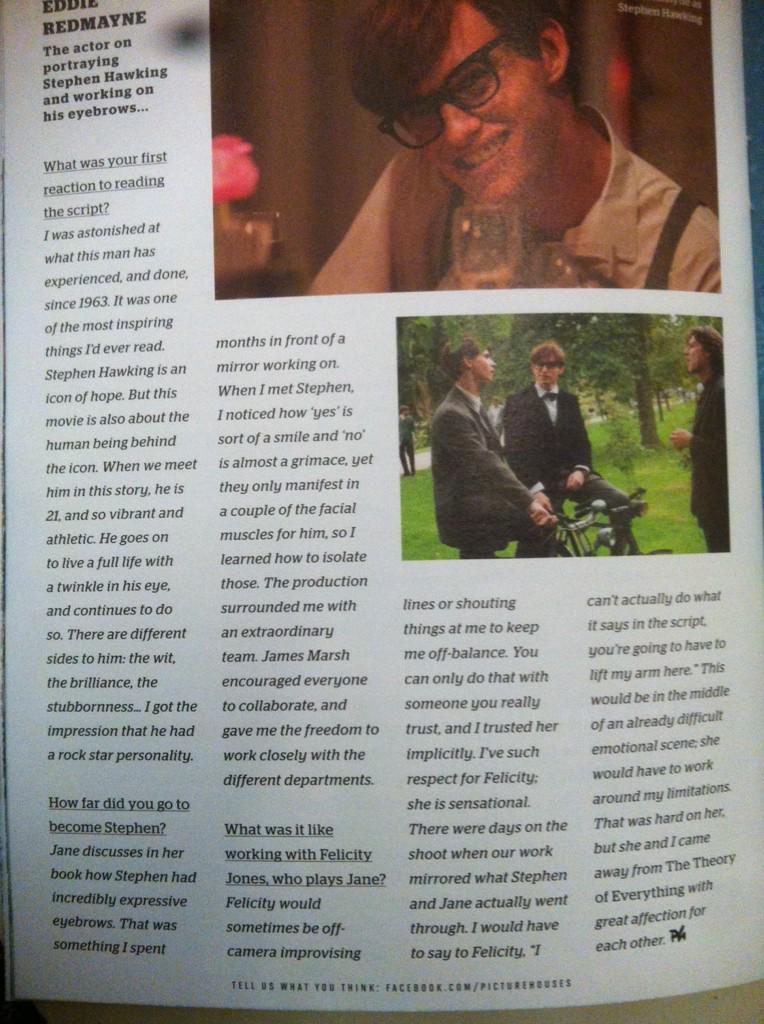 The actor on portraying stephen hawking
and working on his eyebrows
..."When I met Stephen, I noticed how 'yes' is sort of a smile and 'no' is almost a grimace, yet they only manifest in a couple of the facial muscles for him, so I learned to isolate those"...
..."Felicity would sometimes be off-camera improvising lines or shouting things at me to keep me off-balance. You can only do that with someone you really trust, and I trusted her implicitly. I've such respect for Felicity; she is sensational."...
Sunday Post: Eddie Redmayne – is it Oscar time for Stephen Hawking actor?
..."How Jane and Stephen chose to overcome the obstacles put in their way was pretty dumbfounding....
I don't use the word inspirational lightly as it sounds rather glib, but the fact he was given only two years to live, every day beyond that he says is a gift. With Jane's extraordinary support, they lived their lives, fully, passionately and looking forward.
I get caught up in the foibles and anxieties of the everyday and it's humbling seeing how they've lived and fill their time on this planet.
They are a model of ... I don't want to use the word inspiration again, but I have to."...
Business Insider: Stephen Hawking Gave Filmmakers A Priceless Gift After Watching The New Movie About His Life -
Read more
...What life lessons did you learn making 'Theory'?
'Number one: Stephen and Jane had these obstacles put in their way, but refused to be defined by them. They've been defined by how they've overcome them. How we overcome limitations is what's important. And two: the notion of time. Stephen was given two years to live and every day beyond that he sees as a gift. He lives every minute of every day as passionately as possible. I'm one of those people who gets caught up in the anxieties of daily bollocks. He is a great reminder that we only have one shot at life, and we have to live it as fully as possible.'...
Video: LA Times/EPIX Actors Roundtable (full).
Features Eddie Redmayne, Benedict Cumberbatch, Steve Carell, Michael Keaton, Robert Downey, Jr.
Related posts with video gifsets, captures and pics from Kirk McCoy's photoshoot for LA Times